Exhibitions
Current In-House Exhibition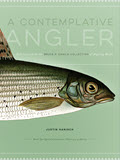 A Contemplative Angler
COMING SOON!
A Contemplative Angler: Selections from the Bruce P. Dancik Collection of Angling Books
Curator: Justin Hanisch
15 October 2018 — 31 January 2019
Currently being prepared, the next exhibition at Bruce Peel Special Collections will be a visually-stunning display showcasing highlights from an extraordinary collection of rare books and ephemeral publications in the Bruce P. Dancik Collection of Angling Books. Many of the books held in the collection are titles of extreme rarity, often illustrated with woodcuts, copper or steel engravings, chromolithographs, and photoengravings.
The Peel library has offered a fascinating array of exhibitions since moving to the basement of Rutherford South in 1984. Numerous awards demonstrate that the exhibition catalogues published by Bruce Peel Special Collections are some of the best in North America. They are distributed internationally by University of Alberta Press and continue to be actively used by local researchers. For information on past exhibitions and the availability of exhibition catalogues, see Previous in-house Exhibitions.
Previous In-House Exhibitions
Digital Exhibitions