Exhibitions
Current In-House Exhibition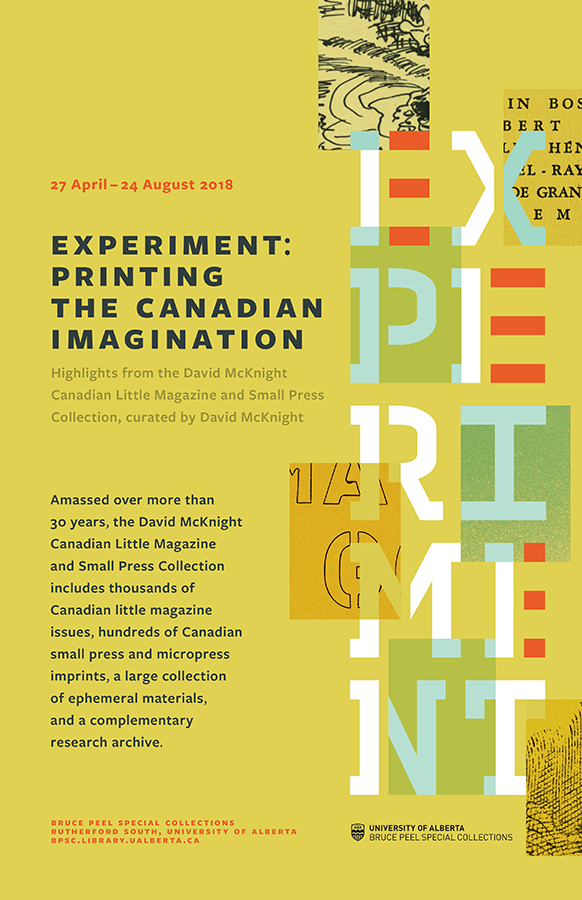 Experiment
ON NOW!
Experiment: Printing the Canadian Imagination
27 April to 24 August 2018 (Exception: Closed June 11-22)
Curator: David McKnight
This exhibition showcases some highlights from an extensive collection of Canadian little magazines, Canadian small press and micro-press imprints (including most of the 1,500 Coach House Press titles), and a complementary research archive. As a determined collector/librarian imbued with considerable passion and resolve, David McKnight invested 30 years developing a private collection that has considerable potential for research on Canadian Modernist poetry, avant-garde literature, and the production of small magazines in Canada. The "David McKnight Canadian Little Magazine and Small Press Collection" was generously donated to the Peel library by David McKnight and Lillian Eyre in memory of Professor Wynne Francis, and this exhibition will unveil the collection publicly for the first time. The catalogue for this exhibition can be viewed alongside the exhibition and can be purchased through University of Alberta Press or Indigo or in person in the Peel library for $40 (cash only, no dealers).
The Peel library has offered a fascinating array of exhibitions since moving to the basement of Rutherford South in 1984. Numerous awards demonstrate that the exhibition catalogues published by Bruce Peel Special Collections are some of the best in North America. They are distributed internationally by University of Alberta Press and continue to be actively used by local researchers. For information on past exhibitions and the availability of exhibition catalogues, see Previous in-house Exhibitions.
Previous In-House Exhibitions
Digital Exhibitions