Exhibitions
Bruce Peel Special Collections has offered a fascinating array of exhibitions since moving to the basement of Rutherford South in 1984. Numerous awards, for exhibition catalogues (see previous in-house exhibitions) and for digital exhibitions (Tinctor's Foul Treatise and Photographies ) demonstrate that the exhibitions produced by the Peel library are some of the best in North America. Exhibition catalogues are distributed internationally by University of Alberta Press and continue to be actively used by local researchers. For information on past exhibitions, as well as the availability and prices of past exhibition catalogues, follow the link below.
Previous In-House Exhibitions
Current In-House Exhibition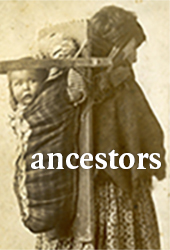 Ancestors
Ancestors: Indigenous Peoples of Western Canada in Historic Photographs
Curators: Sarah Carter and Inez Lightning
Anticipated opening: Fall 2021
Link to introductory exhibition

This exhibition will explore a selection of photographs from a rich and diverse collection with potential for enhancing our understanding of the history, economies, culture, ceremonies, and art of the Indigenous Peoples of the western provinces. By sharing the many insights and perspectives generously provided to them by Elders and keepers of traditional knowledge, the curators hope to show us some of the ways that the photographs in this exhibition represent more than moments frozen in time; they carry stories and legacies into the future.
To learn from these photographs, it is crucial that we try to understand them in context. Most of these photographs were created in the nineteenth century by non-Indigenous photographers. Frequently sold as souvenirs or postcards, these images of Indigenous peoples were contrived and disseminated for commercial, ideological, and imperial reasons, and they seemed to satisfy a hunger for exotic, nostalgic, and romanticized depictions of so-called "vanishing" peoples.
Many of the photographs from the Indigenous Photograph Collection can be viewed online through the Internet Archive.
Digital Exhibitions (most recent first)